Electrochemical Cells Pro
version 2.2

A Virtual Battery Builder

[ Shareware Download Sites | Purchasing ]
---

Build virtual Electrochemical Cells

Design batteries.
Learn about oxidation and reduction by building cells,
like the Lead-Acid (car) battery or the 1.5 Volt batteries you buy at the store.

Drag-Drop electrodes from the Electrode Selector, or

randomly generate cells, from over 1600 already provided
View half equations or get the program to balance equations for cells for you, and
Show where oxidation and reduction are taking place

Display Cell Voltage, electron flow, anode, cathode, positive and negative electrodes for any cell you care to make

Copy and paste cells to your word processor

Print cells pictures directly

Save cells as picture files in a wide variety of picture formats
The Half Cell Editor makes it easy to enter any half equation
Add new half cells, or
Edit one of over 50 half cells already provided
now with Auto Half Cell to make entering equations even easier, and
Automatic formatting of chemical equations
Customise cell color
Recognition of gases and non-ionic solutions
Save any number of data files
The Cell Properties Window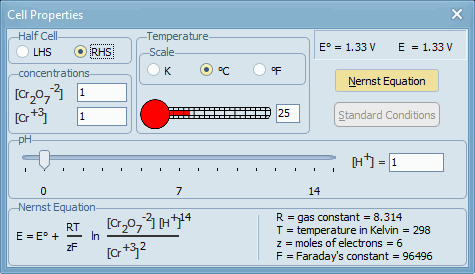 Alter the conditions in each half cell:
* temperature, by clicking the thermometer or entering a value
* pH, by dragging the track bar or entering a value
* concentrations, and
* pressure
to see the effect on Reduction Potential

full Nernst Equation support
---
Download the Shareware Version (1.12MB)
Winsite - Program description | Download

Simtel - Program description | Download Sites
Chemware Order Form
Register your shareware version at Register Now!
Description and Online Ordering at The Virtual Software Store
---
---

webmaster@chemware.co.nz